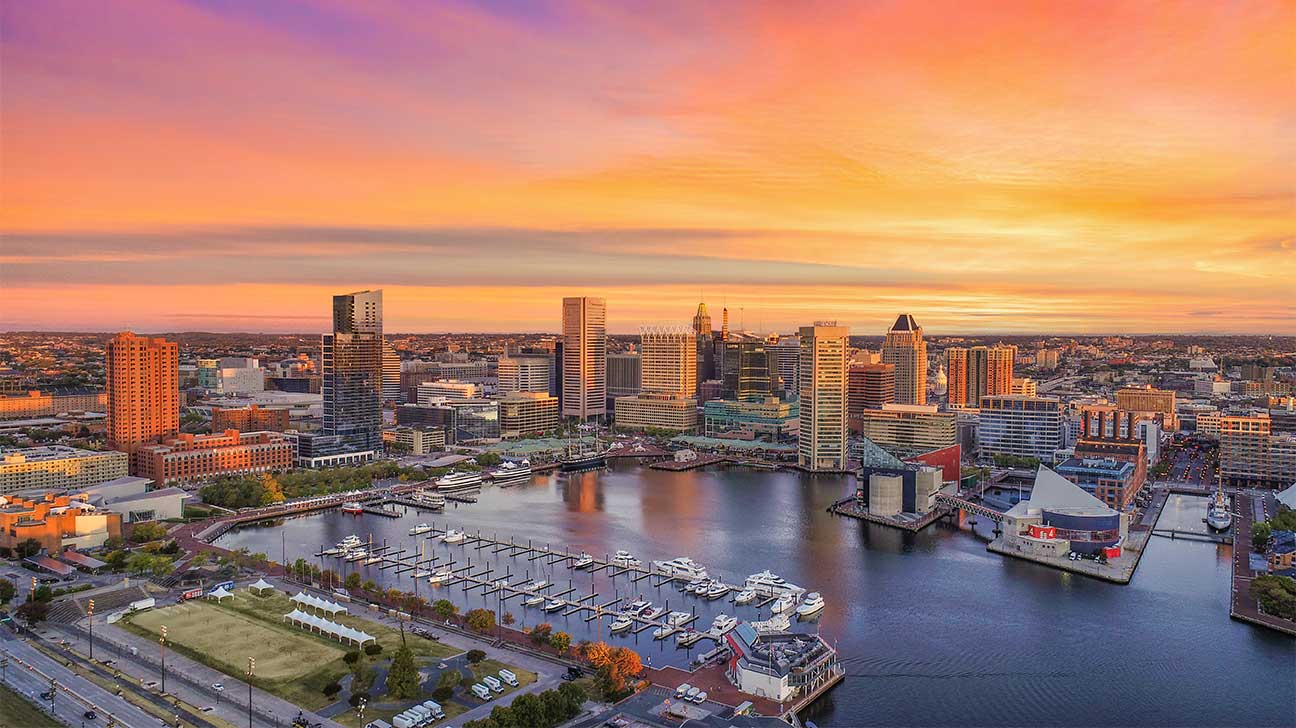 Addiction treatment programs are offered in either inpatient or outpatient treatment programs, both of which can be offered at free and low-cost treatment centers.
Here, you'll find information on:
treatment centers that provide free services
ways to obtain free treatment
treatment programs available at low or no cost
Not every rehab center in Maryland extends free programs to clients, but there are several options that do.
List Of Free Rehab Facilities In Maryland
We've chosen free rehab centers in Maryland that feature top credentials.
These include:
accreditation
client testimonials
Google ratings
valued memberships
evidence-based treatment
1. The Baltimore Station, Baltimore, Maryland
This is a residential and outpatient treatment center for veterans overcoming challenges, including substance abuse.
All services are free at The Baltimore Station with donations and funding from the VA.
A few of the marks of credible service at this free Maryland rehab center include:
CARF accreditation
a 4.7-star Google rating
Veterans can get the following services here:
case management
relapse prevention
cognitive behavioral groups
grieving and loss counseling
psychotherapy
peer facilitative groups
Get Started On The Road To Recovery.
Get Confidential Help 24/7. Call Today!
(844) 617-2040
2. Gaudenzia, Multiple Locations
Gaudenzia is a comprehensive drug and alcohol treatment facility that offers donation-based scholarships and Medicaid for free and low-cost treatment.
Maryland treatment centers can be found in Baltimore, Glen Burnie, and Crownsville.
Here, clients can choose between programs such as:
inpatient treatment
outpatient treatment
men's treatment program
women's treatment program
detoxification
mental health treatment
recovery support services
Gaudenzia boasts several noted qualities, including:
accreditation from the Commission on Accreditation of Rehabilitation Facilities (CARF)
evidence-based treatment
partnership with Treatment Communities of America (TCA)
Location and contact information:
4615 Park Heights Ave.
Baltimore, MD 21215
(443) 423-1500
3. Helping Up Mission, Baltimore, Maryland
This is a faith-based treatment facility that helps people escape addiction, homelessness, and poverty.
All Helping Up Mission services are partially funded through donations.
Top qualities of this rehabilitation program include:
partnership with Citygate Network
4.3 stars on Google
Services offered include a spiritual recovery program, which is a five-step program lasting a full year.
4. Hudson Behavioral Health, Salisbury, Maryland
This drug abuse rehab center accepts Medicaid, as well as other private health insurance options.
Features of Hudson Behavioral Health include:
Joint Commission accreditation
membership with the National Association of Addiction Treatment Providers
a 3.4-star Google rating and positive client testimonials
Treatment options at this recovery center include residential treatment, detox, peer support groups, and much more.
Location and contact information:
1505 Emerson Ave.
Salisbury, MD 21801
(410) 219-9000
5. Penn North Recovery, Baltimore, Maryland
Clients can get treatment for substance use disorder free of charge at Penn North Recovery.
Treatment plans may include acupuncture, outpatient counseling, job readiness and training, and other skills-development programs.
Trusted features of this addiction treatment center include:
evidence-based addiction treatment
client testimonials
How To Get Free Addiction Treatment Services In Maryland
Getting free substance abuse services in Maryland may require some planning and research. We've done the first step for you by gathering funding sources in Maryland.
The following can be used to get free drug addiction treatment in Maryland:
Medicaid: Medicaid provides free behavioral health services for those with low incomes. This is the best way to get free treatment, as many rehab centers accept Medicaid.
federal grants: Many government grants provide funding for substance abuse treatment. These grants may be allotted to individuals, organizations, or community efforts.
state grants: There are many Maryland state grants that fund prevention and treatment measures for drug and alcohol abuse treatment.
U.S. Department of Veterans Affairs (VA): The VA provides many free mental health and addiction services for veterans, active-duty members, and their families.
If the above options are not available to you, there are also ways to get outpatient and inpatient drug rehabilitation at a reduced cost.
Use the following tools to get low-cost drug and alcohol addiction services:
sliding scales: Many charities, non-profits, and private rehab centers have a sliding fee scale that allows clients to pay what they can based on their level of income.
scholarships: Rehab centers that have donors and government funding typically have scholarship and sponsorship programs to offset much of the cost of services.
Selecting The Right Free Rehab Center In Maryland
There are many free and low-cost treatment options in Maryland, and you'll want to be sure that you're choosing the right facility for your needs.
Here's how to choose the right program:
extra fees: Some treatment centers have a small fee for all clients. Determine if there are any extra costs you should be aware of at a free treatment program.
type of treatment program: You should decide if you need 24-hour residential or inpatient care, or a less intensive outpatient option. Not all free rehab centers offer both.
funding: Whether you're using Medicaid, a SAMHSA grant, or some other source, find out whether the rehab program you've chosen accepts your source of funding.
Length of stay: Find out how long the free rehab program lasts, and whether it's a good fit for what you need for your recovery.
Types Of Treatment Programs At Maryland Free Rehab Facilities
Treatment services vary depending on the facility. For example, some non-profit organizations may focus on providing therapy, while other programs may have more intensive care.
What Medicaid Covers In Maryland
Your ability to get free treatment will also depend on what your Medicaid plan covers.
In Maryland, Medicaid is provided through the following managed care organizations (MCOs):
Aetna Better Health
AMERIGROUP Community Care
CareFirst BlueCross Blue Shield Community Health Plan Maryland
Jai Medical Systems
Kaiser Permanente
Maryland Physicians Care
MedStar Family Choice
Priority Partners
United Healthcare Community Plan
You should review the list of MCOs to weigh the pros and cons of each, verifying that your necessary services are covered by that health plan.
Some of the addiction and mental health services covered by Maryland Medicaid include:
case management
emergency crisis/mobile crisis services
inpatient treatment
outpatient mental health treatment
residential treatment
Maryland Free Rehab Center FAQs
Find answers to frequently asked questions regarding free behavioral health services in Maryland.
❓ Can I Get Free Opioid Abuse Treatment In Maryland?
✔️ Some rehab centers provide free opioid treatment, which usually includes some form of medication-assisted treatment and therapy.
If you're using Medicaid, your health plan will likely cover the full cost of opioid treatment. Most plans have a $0 copay for medications, but some have copays up to $3 per prescription.
❓ Can A Maryland Free Rehab Center Treat My Depression?
✔️ Free drug rehab programs are often equipped to treat co-occurring disorders, including depression, anxiety, PTSD, and other mental conditions.
❓ What Do I Do After My Free Rehab Program In Maryland?
✔️ Many free and low-cost drug and alcohol rehab centers have step-down plans which may include peer support groups, aftercare/continuing care, and weekly or bi-weekly counseling.
Find Free Rehab In A Maryland City Near You
If you or your loved one would like assistance finding addiction treatment, we're available.
Call our helpline today to talk with a treatment specialist about your options, or look through our list of Maryland rehab centers by city below.
Published on October 1, 2021
This page does not provide medical advice.
See more
Article resources
Free Rehab Centers aims to provide only the most current, accurate information in regards to addiction and addiction treatment, which means we only reference the most credible sources available.
These include peer-reviewed journals, government entities and academic institutions, and leaders in addiction healthcare and advocacy. Learn more about how we safeguard our content by viewing our editorial policy.