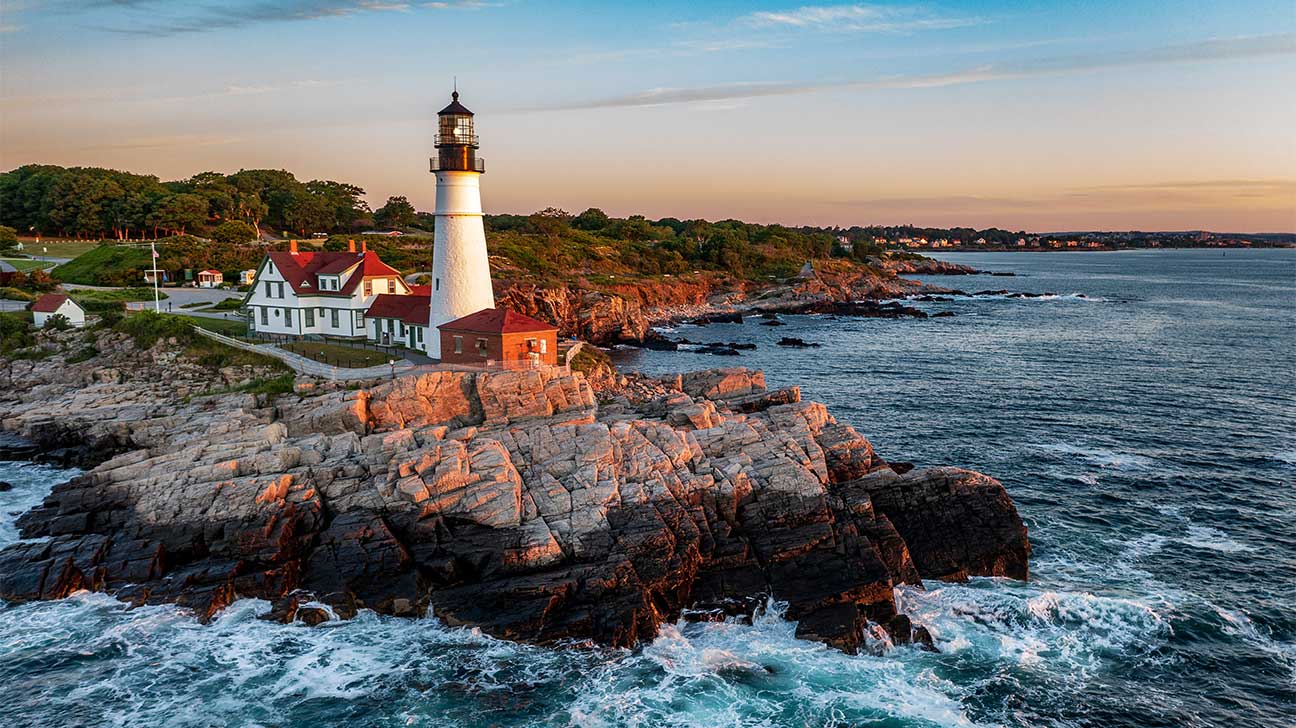 Free rehab programs are typically funded by programs like Medicaid, Medicare, and government grants for substance use programs.
Another option is to find a donation or faith-based organization that does not require out-of-pocket costs for services. To qualify, you must be low-income and meet other criteria.
Free behavioral health services in Maine may include:
telehealth therapy
opioid and alcohol detox
intensive outpatient treatment
inpatient drug treatment
group counseling
case management
sober home living
List Of Free Drug Rehab Centers In Maine
The following free addiction treatment centers offer reputable, evidence-based treatments like medication-assisted treatment (MAT), detox programs, counseling for alcohol abuse, and more.
These treatment programs were selected for:
awards and accreditations
Google ratings
positive client testimonials
evidence-based treatment services
affordability
1. Dirigo Counseling Clinic, Bangor, Maine
Dirigo offers a diverse set of mental health, assessment, and support services. This rehab center can be paid for using Medicaid, Medicare, and insurance.
Treatment options include:
mental health counseling
substance abuse counseling
community support services and case management
intensive outpatient programs
support groups
Top features of this addiction treatment program:
endorsed by the Maine Department of Health and Human Services
positive client testimonials
3.9-star Google ratings
Get Started On The Road To Recovery.
Get Confidential Help 24/7. Call Today!
(844) 617-2040
2. Hope House Health And Living Center, Bangor, Maine
The addiction recovery program at Hope House offers a range of services including transitional housing, counseling and therapy, addictions medicine, and more.
Clients are expected to pay their bill at the time of service. If you don't have Medicaid or a government grant, an outreach specialist can help you enroll in their sliding scale program.
At the Hope House Health location, homeless individuals can get free healthcare services including addiction treatment.
Qualities of this drug and alcohol rehab center include:
accreditation from the Accreditation Association for Ambulatory Health Care (AAAHC)
4.2-star Google rating
recognition from the National Committee for Quality Assurance (NCQA)
2020 LGBTQ Healthcare Equality Leader
positive client feedback
3. Kennebec Behavioral Health, Skowhegan, Maine
This substance abuse treatment center can be paid for using Tricare (military insurance), private health insurance, Medicaid, and block grants.
Kennebec Behavioral Health is backed by accreditation from the Commission on Accreditation of Rehabilitation Facilities (CARF).
Other positive qualities of this rehab center:
positive client testimonials
4.1-star Google reviews
partners with The United Way
Alcohol and drug abuse services include:
outpatient methadone/buprenorphine or naltrexone treatment
brief intervention
12-step programs
relapse prevention
trauma-related counseling
aftercare services
4. Northeast Occupational Exchange, Newport, Maine
This behavioral health center offers clinical services like individual and group substance abuse counseling, psychological assessments, and dialectical behavior therapy.
You can receive free and low-cost treatment here through programs like Medicaid IHS/Tribal/Urban (ITU) funds, Tricare, and other state-financed health insurance plans.
Northeast Occupational Exchange is backed by:
client satisfaction
positive reviews on Google
services offered throughout Maine
5. Wellspring, Bangor, Maine
Wellspring provides detox and mental health and addiction counseling at an outpatient office. Co-occurring disorder services are located at their men's and women's halfway houses.
Funding options include Medicaid, grant funds, Tricare, and private health insurance.
Best qualities for Wellspring:
affiliated with the Maine Department of Health and Human Services
4-star Google rating
residential program for women and their children
How To Get Free Drug Rehab In Maine
Rehab centers are funded through health insurance payments, donations, and grants for substance use disorders. To get free services, you must qualify for one or more of these payment options.
Maine Medicaid
Medicaid (also called MaineCare) is a state-run health insurance plan that provides free healthcare for residents of Maine and their children.
You might be eligible for MaineCare if you are:
pregnant
responsible for a child 18 years of age or younger
blind
have a disability or a member in your household with a disability
over 65 years of age
classified as low-income or very low-income
MaineCare is accepted at dozens of rehab centers throughout Maine as a form of payment. In some cases there may be a copay, but typically this amount is very low.
Donations And Government Grants
Another way to receive free addiction treatment is by applying for a spot in a non-profit organization that is funded entirely by donations.
At some free treatment facilities, you may be asked to pay a one-time fee to help pay for boarding costs. This fee is typically not mandatory, and you won't be denied care if you can't pay it.
The most common grant used for addiction recovery in Maine is offered through the Substance Abuse and Mental Health Services Administration (SAMHSA).
The block grant from SAMHSA is called the Substance Abuse Prevention and Treatment Block Grant (SABG). You can use SABG to pay for treatment at a rehab center.
FAQs For Free Rehab Centers In Maine
Below are answers to some of the common questions associated with free rehab in Maine.
❓ What Should I Expect When I Go To A Maine Free Rehab Center?
✔️ First, you'll complete an intake interview to help customize your treatment plan. After this, you'll likely go through detoxification, which removes drugs and alcohol from your body.
Once detox is complete, you'll attend various types of therapies and counseling to help you through the recovery process. These are conducted in both individual and group settings.
❓ Do All Rehab Centers In Maine Accept Medicaid?
✔️ No, Medicaid is not a viable form of payment at all treatment centers. Contact the rehab facility you are considering and clarify what health insurance plans they accept.
❓ What Are The Benefits Of A Free Recovery Center In Maine?
✔️ The main benefit of free rehab service is that it won't cost you any money. Also, free rehab and detox centers typically use evidence-based treatments that are known for successful outcomes.
Find Free Drug And Alcohol Rehab In A Maine City Near You
There are many options for free addiction treatment centers throughout the state of Maine.
Call our helpline today to learn about addiction recovery programs in a city near you, or search for rehab centers in your city in the list below.
Published on September 30, 2021
This page does not provide medical advice.
See more
Article resources
Free Rehab Centers aims to provide only the most current, accurate information in regards to addiction and addiction treatment, which means we only reference the most credible sources available.
These include peer-reviewed journals, government entities and academic institutions, and leaders in addiction healthcare and advocacy. Learn more about how we safeguard our content by viewing our editorial policy.