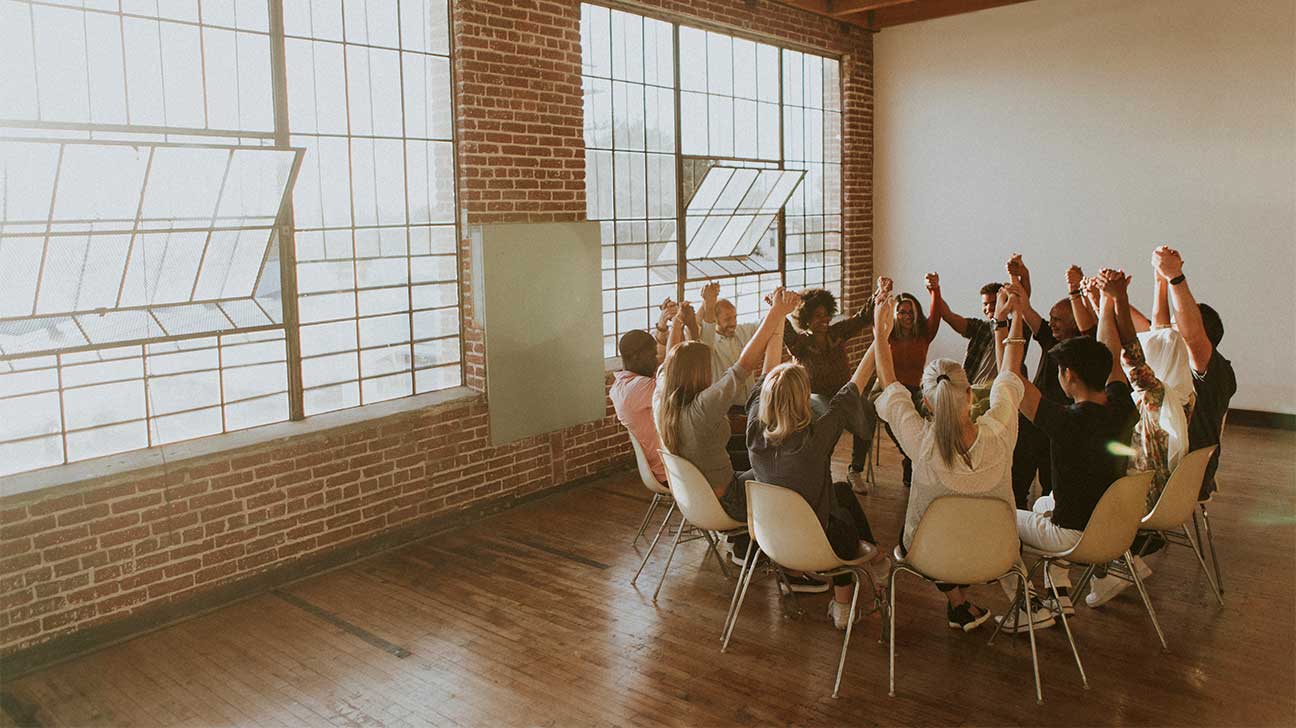 Substance abuse is a complex disorder that involves both your mental and emotional health. The treatment has to factor in those complexities to be effective.
To properly meet the needs of each person, substance abuse treatment plans employ a number of different programs, treatment types, and therapies.
Inpatient Treatment
Inpatient addiction treatment provides 24/7 access to care in a specialized treatment center. For the duration of your program, you will live and sleep on-site.
Many rehab centers that offer inpatient care do have a medical team on staff for emergencies. However, the extent of their capabilities will vary depending on the treatment facility.
Inpatient substance use disorder treatment can be an excellent choice if you need continuous support and a stable environment with some access to health care.
Learn more about inpatient treatment programs.
Short-Term Inpatient Treatment
Short-term inpatient treatment typically lasts less than 30 days. Many programs in this category may only last a week or two to help guide you through the initial stages of detoxification.
Long-Term Inpatient Treatment
The average program duration for long-term inpatient treatment is about 90 days. With that said, these programs can last over a year in some cases.
Outpatient Treatment
Outpatient addiction treatment provides flexibility for people who need addiction recovery support but don't want to put other parts of their life on hold.
Depending on the type of outpatient treatment you choose, you could conceivably continue to work and spend time with family members each evening if that approach works for you.
If you feel that you need a more intensive form of outpatient treatment, there are several options that will allow you access to a wider range of treatment options more frequently.
Read more about outpatient rehab programs.
Intensive Outpatient Programs (IOP)
Intensive outpatient programs (IOP) maintain the flexibility of outpatient care but offer more regular opportunities for counseling and other forms of treatment.
While it can vary, the average intensive outpatient program asks participants to attend treatment three or four days per week.
In addition, the treatment services offered through IOPs can be more targeted to the needs of the individual than your standard outpatient program.
Day Treatment
Day treatment is a step up from an IOP in regard to the level of care provided. Day treatment provides care for part of the day, while allowing you to return home for the night.
On average, day treatment is usually offered up to six hours a day and three to five days per week.
These services are often hosted in a more relaxed setting, but you will have daily access to therapy and other necessary treatments.
Partial Hospitalization Programs (PHP)
The last step on the ladder of outpatient programs are partial hospitalization programs (PHP). The overall structure is similar to that of a day treatment program but in a clinical setting.
PHPs take place over longer hours, more days of the week, and come with the benefit of fully trained healthcare providers.
PHPs are a good option for people who require medical detox, drug tapering, and dual diagnosis treatment for co-occurring mental health issues.
Medication Assisted Treatment (MAT)
Medication assisted treatment (MAT) is a useful tool for treating specific kinds of substance use disorders.
These treatments are most commonly used to transition people away from the use of illicit opioids, but there are MAT options for alcohol addiction as well.
MAT is generally used to help normalize brain chemistry, block the euphoric effects of drug use, and/or relieve cravings to support long-term addiction recovery.
Find out more about medication-assisted treatment programs.
Methadone Maintenance
Methadone is an opioid agonist that can be administered to reduce cravings as well as the severity of withdrawal symptoms.
Methadone maintenance is available through accredited clinics and programs where you can access daily treatment until you are cleared to take methadone at home between visits.
Suboxone Therapy
Suboxone is a combination of buprenorphine and naloxone. This prescription drug is used in MAT to specifically decrease the severity of opioid withdrawal symptoms.
Suboxone therapy can be used during medical detox to manage symptoms and increase the overall chance of success.
Naltrexone Treatment
Naltrexone is commonly used in MAT to address opioid and alcohol use disorders, because it blocks the euphoric effects of those substances.
Without the associated high, it can be easier for someone to resist cravings and make meaningful steps toward long-term addiction recovery.
Drug And Alcohol Detoxification
Detoxification is the process your brain and body go through as they attempt to acclimate to conditions without the influence of drugs or alcohol.
The process usually takes three to five days, and it is generally recommended that you detox through a designated program where you can receive emergency help if needed.
Learn more about detox programs for drugs and alcohol.
Supervised Detox Programs
Supervised detox programs offer security by ensuring that you are consistently monitored throughout your detoxification.
These programs do not always have medical staff on hand, but they are able to offer some palliative care during your detox.
If an emergency occurs, on-site staff are able to contact emergency medical services.
Medical Detox Programs
Medical detox programs do provide access to professionally trained staff. Staff members will administer medications and other care to help counter withdrawal symptoms as they arise.
Some medical detox programs are more suited to handling severe withdrawal symptoms than others. Contact your prospective medical detox center to learn more about their services.
Social Detox Programs
Social detox programs are usually offered in a residential treatment setting and work best for people who are more likely to experience mild to moderate withdrawal symptoms.
These detox programs provide a community of your peers who can offer support during the withdrawal process in an environment that feels more like home.
Dual Diagnosis Treatment
Addiction and mental illness commonly co-occur and often aggravate one another.
Dual diagnosis treatment aims to target both your addiction and general mental health to improve your chance of complete recovery.
Learn more about dual diagnosis programs.
Anxiety And Depression
Anxiety and depression are two of the most common co-occurring mental health disorders for people with substance use disorders.
In this case, knowing which came first is often difficult to determine. Addiction is a known factor for the development of these disorders but also a common coping mechanism.
A combination of psychotherapies, such as cognitive behavioral therapy, and prescription medications can be useful for targeting either condition as well as the associated addiction.
Bipolar Disorder, Schizophrenia, And More
The origin of mental health disorders like bipolar and schizophrenia is imperfectly understood, but evidence does suggest that genetics likely play a factor.
With these disorders, addiction typically develops as a form of self-medication. Receiving proper treatment for the mental health disorder offers unparalleled support for addiction recovery.
Trauma-Informed Therapy
Trauma-informed therapy can be used alongside psychotherapy and prescription medications to support people with post-traumatic stress disorders (PTSD).
Self-medication through substance abuse is also common among people with PTSD, so this treatment can help to promote other forms of addiction treatment.
Holistic Therapies For Addiction
At present, scientific research does not support the sole use of holistic therapies to treat substance abuse. With that said, these therapies can be important tools for promoting wellness.
By providing distractions, encouraging new hobbies, and improving your relationship with your mind and body, supplementary holistic therapies can improve outcomes for some people.
Read more about therapy for addiction treatment.
Artistic Expression
Art and music therapy are two common holistic therapies. These approaches encourage you to get in tune with your own creativity and may help to improve overall mental health.
Physical Activity
In the right setting, physical activity can trigger small surges in hormones like dopamine and serotonin.
These hormones play an active role in addiction, and a small boost can help to offset some of the negative side effects of withdrawal.
Experiential Therapy
Experiential therapy focuses on providing the opportunity to experience something new. Examples will vary widely depending on the location of your treatment facility.
Common experiential therapies include equine therapy, hiking, winter sports, and water sports.
As with general physical activity, experiential therapy can stimulate the production of "feel good" hormones while providing a pleasant distraction.
Specialized Drug And Alcohol Treatment Programs
Every behavioral health program aims to meet the unique needs of each participant, but there are some needs that are better served by specialized treatment programs.
Adolescent Programs
Adolescent programs are usually targeted toward helping teens with substance use disorders. These programs provide a community of peers where teens can get the support they need.
Spanish-Speaking Programs
If Spanish is your primary language, a Spanish-speaking recovery program can provide a level of comfort that won't necessarily be available through an English-language recovery program.
During addiction treatment, your primary focus should be on healing. Communicating your thoughts and feelings in a secondary language can add stress you don't need.
LGBTQ+ Programs
Members of the queer community often benefit from programs that offer specialized counseling to meet the needs of LGBTQ+ people.
These programs provide a safe space with a team that will validate your identity and your worth as you go through addiction treatment.
Mother & Child Programs
Pregnant women and women with young children who have substance abuse are more likely to thrive in an environment where they are able to care for their children.
Substance abuse treatment programs for women with children usually operate out of residential facilities where the bond between mother and child can stay intact throughout treatment.
Sober And Transitional Living Facilities
Sober and transitional living facilities can be incredibly useful tools for supporting long-term recovery.
If you don't have secure housing or gainful employment after you've completed an inpatient drug rehab program, these facilities offer a path toward progress.
During your stay, you can focus on building vocational skills, finding work, and learning to live a sober life with others like you.
These facilities reduce the stress that many people experience when they transition out of full-time care, reducing the overall risk of relapse.
Learn more about sober living facilities.
Aftercare Services And Relapse Prevention
Aftercare and relapse prevention services aim to provide continued support once you have completed drug and alcohol treatment.
Available services will vary by location, but they generally work to provide stability and community when you need it.
Find out more about aftercare programs in addiction recovery.
Continued Counseling
Addiction is a chronic condition that will require continuous work. Opportunities for individual counseling, group therapy, and family therapy can help you to maintain your progress.
Psychiatric And Medical Support
Co-occurring conditions are a common result of long-term substance abuse. Some treatment facilities will offer continued access to psychiatric and medical support to treat those conditions.
Vocational Rehabilitation
If your addiction has prevented you from building a career, ask your rehabilitation facility if they offer any vocational skills training or work with other local programs.
Community Involvement
Most importantly, relapse prevention services help to keep you connected with your community and people who have shared your experiences through local projects and support groups.
Will Addiction Treatment Cure Addiction?
At this time, there is no permanent cure for addiction. A substance use disorder is a chronic condition that requires active treatment and management.
However, that does not mean that you cannot achieve long-term sobriety. While many people do relapse, most will eventually enter a lasting stage of recovery with proper treatment.
Effective addiction treatment requires comprehensive and customizable care that fits the needs of each individual. As a result, the treatment for substance abuse often includes a collection of different approaches that can be molded to fit your needs.
Find Substance Use Treatment Today
If you or a loved one needs help accessing addiction treatment, call our helpline today to learn more about the treatment options in your area.
Published on October 5, 2022
This page does not provide medical advice.
See more
Article resources
Free Rehab Centers aims to provide only the most current, accurate information in regards to addiction and addiction treatment, which means we only reference the most credible sources available.
These include peer-reviewed journals, government entities and academic institutions, and leaders in addiction healthcare and advocacy. Learn more about how we safeguard our content by viewing our editorial policy.