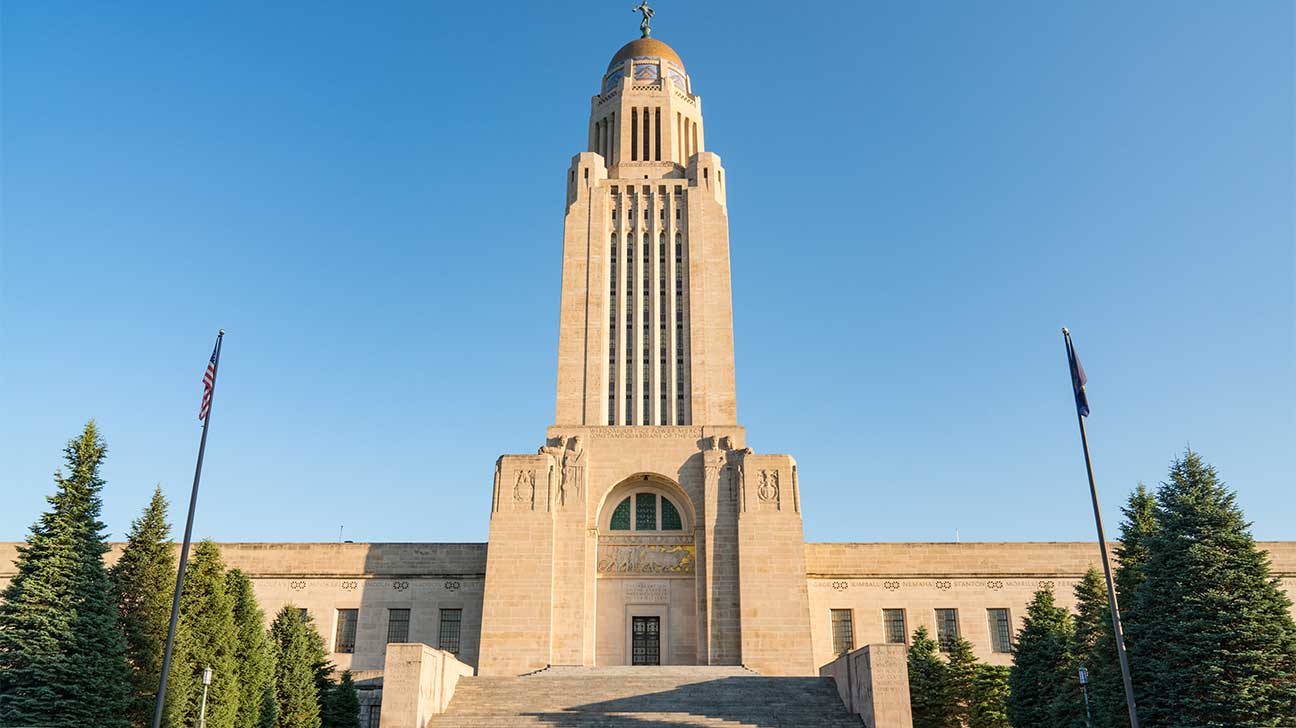 The state of Nebraska is home to a number of addiction treatment facilities that provide state-funded drug and alcohol rehab services.
These facilities source their funding from federal recovery grants, scholarships, and donations from federal and state endings.
Additionally, many of these rehab centers accept public health insurance through the Nebraska Medical Assistance Program (NMAP).
State-Funded Drug Rehab Centers In Nebraska
The rehab centers in this list were selected for their certifications, accreditations, and more.
1. Arch Halfway House, Omaha, Nebraska
This men's residential rehab center accepts regional funding from the state of Nebraska to help cover addiction treatment services for low-income persons.
Treatment types available here include:
group therapy
residential treatment
individualized counseling
12-step program meetings
educational programs
This treatment center benefits from accreditation through the Commission on Accreditation of Rehabilitation Facilities (CARF) and a 4.6-star Google rating.
Location and contact information:
604 S. 37th St.
Omaha, NE 68105
(402) 346-8898
Get Started On The Road To Recovery.
Get Confidential Help 24/7. Call Today!
(844) 617-2040
2. Bryan Medical Centers – East Campus, Lincoln, Nebraska
Medicaid health insurance is accepted at this subsidiary clinic of BMC.
You can find treatment programs at this facility, such as:
mental health services
inpatient programs
medication management
therapy and counseling services
comprehensive evaluation
This location is a certified Blue Distinction Center by Blue Cross Blue Shield (BCBS).
Location and contact information:
1600 S. 48th St.
Lincoln, NE 68506
(402) 481-1111
3. Centerpointe Campus For Hope, Omaha, Nebraska
This non-profit rehab facility provides sliding-scale payment systems and accepts Medicare to assist low-income individuals in their journey to recovery.
Treatment services provided at CCFH include:
co-occurring disorder treatment
residential care
mental health and substance abuse treatment services
evidence-based therapeutic practices
individual, group, and family therapy
Features of this drug rehab center include:
accreditation from CARF
status as a Better Business Bureau (BBB) accredited charity
partnership with the National Association of Behavioral Health Organizations (NABHO)
Location and contact information:
1490 N. 16th St.
Omaha, NE 68102
(402) 827-0570
4. Heartland Counseling Services, South Sioux City, Nebraska
Medicare insurance is accepted at this substance abuse treatment center.
Drug addiction services provided at this location include:
intensive outpatient treatment (IOP)
intervention
mental health counseling
support programs
aftercare services
This facility is accredited through CARF and is partnered with the United Way of Siouxland (UW).
Location and contact information:
917 W. 21st St.
South Sioux City, NE 68776
(402) 494-3337
5. Lutheran Family Services, Bellevue, Nebraska
This rehab facility in Bellevue, Nebraska, specializes in behavioral therapy and mental health counseling and accepts Medicare insurance.
Addiction treatment programs at LFS include:
medication management
therapy services for families, groups, and individual persons
MAT
outpatient programs (OP)
substance use disorder educational programs
This facility provides a number of evidence-based treatment programs and is accredited by the Council on Accreditation (COA).
Location and contact information:
11515 S. 39th St.
Bellevue, NE 68123
(402) 292-9105
6. NOVA Treatment Community, Omaha, Nebraska
This residential treatment facility provides adult men and women with gender-specific rehab settings and accepts Nebraska Medicaid.
Treatment services provided at this location include:
short-term residential treatment
therapy and counseling programs
inpatient treatment
relapse prevention
vocational and educational programs
This addiction treatment center also accepts funding from Nebraska's Region 6 initiative, federal vouchers, and the Nebraska Department of Health and Human Services (HHS).
Some features of this drug rehab center are:
accreditation from CARF
status as a 501(c)(3) non-profit institution
provision of evidence-based clinical practices
Location and contact information:
8502 Mormon Bridge Rd.
Omaha, NE 68152
(402) 455-8303
7. Touchstone Addiction Treatment Center, Lincoln, Nebraska
Touchstone receives Nebraska regional funding and accepts Medicaid healthcare plans.
Drug abuse treatment services offered here include:
detoxification from narcotics, opioids, alcohol, and other substances
cognitive behavioral therapy (CBT)
access to 12-step Narcotics Anonymous (NA) and Alcoholics Anonymous (AA) meetings
case management
recreational therapy activities
This facility is also accredited by CARF and bears a 4.2-star Google rating.
Location and contact information:
2633 P. St.
Lincoln, NE 68503
(402) 474-4343
State Funding For Drug Rehab Centers In Nebraska: How It Works
State-funded rehab centers are authorized to accept funding through Medicaid, Medicare, and military health insurance—also known as Tricare.
Additionally, the Substance Abuse and Mental Health Services Administration (SAMHSA) provides these facilities with federal grants to be applied to clients with low financial abilities.
Medicaid Coverage
Medicaid in Nebraska works through the NMAP suite and provides many low-income individuals with access to recovery services.
Federal Grants
Federal grants, provided by SAMHSA, come in two different forms.
The first of these is called the Substance Abuse Prevention and Treatment Block Grant (SABG).
The second grant focuses mainly on mental and behavioral health services and is called the Community Mental Health Services Block Grant (MHBG).
Types Of Treatment Programs Found At State-Funded Rehab Centers
Many treatment options are available at state-funded rehab centers and include behavioral and mental health programs, medical detox, residential treatment, and more.
Other types of treatment programs found at state-funded rehab facilities in Nebraska are:
therapy and counseling for families, groups, and individuals
medication-assisted treatment (MAT)
aftercare services
faith-based or religion-centered treatment approaches
inpatient and outpatient programs
FAQs For State-Funded Rehab Centers In Nebraska
Find answers to questions you may have concerning state-funded rehab programs in Nebraska, which services are covered, information for Medicaid eligibility, and more.
❓ Who Is Eligible For Medicaid Coverage In Nebraska?
✔️ Generally, demographics eligible for Medicaid health insurance in Nebraska are pregnant women, persons over the age of 65 or under the age of 19, and other low-income individuals.
Learn more about using Nebraska Medicaid to cover rehab programs.
❓ What If I Am Ineligible For Federal Grants Or Nebraska Medicaid?
✔️ If you are not eligible for federal grants or other forms of financial assistance, such as Nebraska Medicaid, there are still funding avenues open to you.
Some of these alternative funding sources include:
scholarships
grants from private institutions
donations from non-profit organizations
Additionally, some rehab centers may already have funds available to them, supplied from local and federal entities.
❓ Is Medicaid Accepted At All Nebraska Rehab Centers?
✔️ While Medicaid is not accepted at all rehab centers in Nebraska, a number of rehab facilities do accept it.
To verify if a rehab center accepts Medicaid, visit their website and locate their insurance page, or contact a financial adviser to determine whether or not they accept Medicaid.
❓ How Can I Apply For A Federal Recovery Grant?
✔️ You can apply for a federal grant by visiting the SAMHSA website and checking for the latest Notice Of Funding Opportunities (NOFO) announcements.
If funding is currently available in your area, you can use the online application form to see if you are eligible for either a SABG or MHBG grant.
Connect With A State-Funded Rehab Center In Nebraska Today
If you or a loved one are searching for state-funded rehab programs in Nebraska, call our helpline today to discuss obtaining a free referral to a rehab center near you.
Published on February 28, 2022
This page does not provide medical advice.
See more
Article resources
Free Rehab Centers aims to provide only the most current, accurate information in regards to addiction and addiction treatment, which means we only reference the most credible sources available.
These include peer-reviewed journals, government entities and academic institutions, and leaders in addiction healthcare and advocacy. Learn more about how we safeguard our content by viewing our editorial policy.