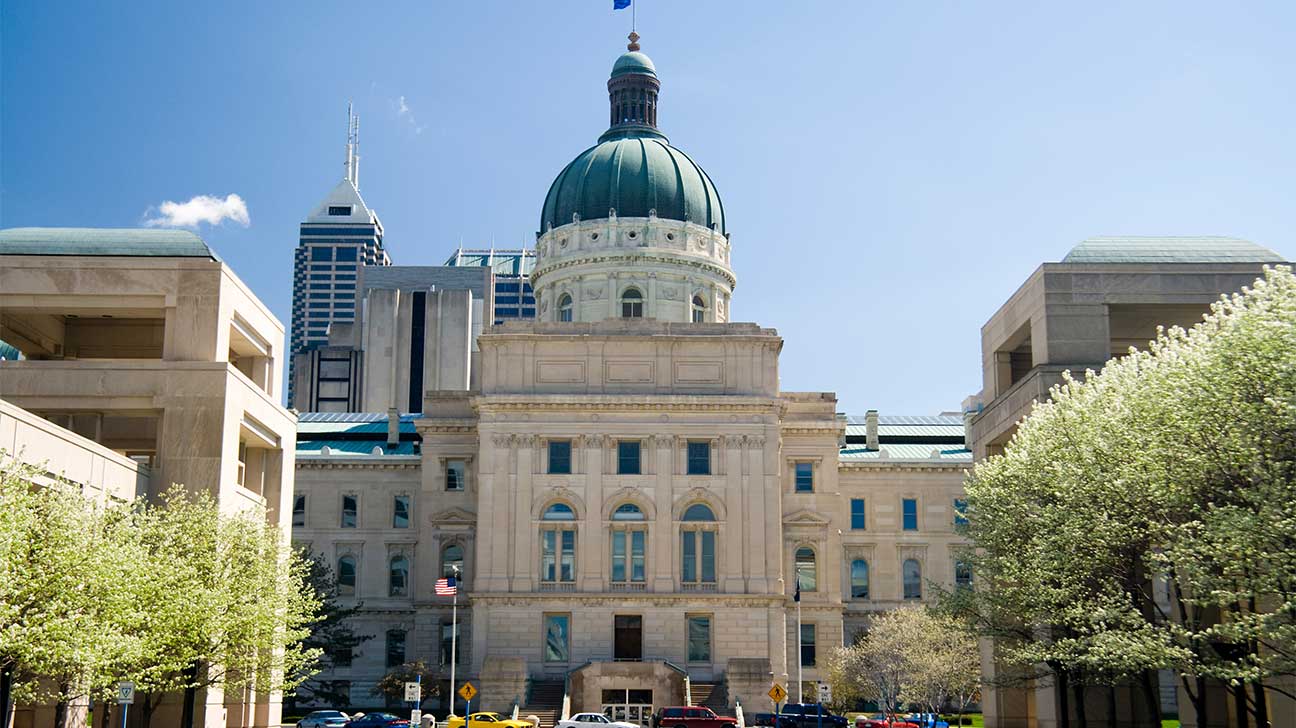 State-funded addiction rehab centers in Indiana accept full or partial coverage from Indiana state insurance services, such as Medicare, Tricare, and Traditional Indiana Medicaid.
The Indiana Health Coverage Programs (IHCP) umbrella extends various levels of coverage through different Medicaid packages to provide detox, rehab, and inpatient services.
By being authorized to administer Medicaid-covered services, state-funded rehab centers can provide mental health and substance abuse treatment services to those who need them.
State-Funded Rehab Centers In Indiana
The rehab centers in this list were selected for their evidence of quality care, proven adherence to nationwide clinical treatment standards, and more.
These addiction treatment centers were chosen for their:
accreditations and certifications from clinical rating commissions
partnerships and affiliations with trusted health organizations
status as non-profit institutions
high Google ratings of 4.0-stars or higher
published client reviews
1. Amethyst House, Bloomington, Indiana
This drug and alcohol rehab center in Bloomington, Indiana accepts Medicaid health insurance plans from a number of health insurance providers.
The following drug and alcohol rehab programs are provided at this location:
gender-specific rehab programs
access to Alcoholics Anonymous (AA) and Narcotics Anonymous (NA) meetings
residential treatment programs
inpatient programs (IP)
individual case management
support groups
continuing care
the 12-step process
Features of this drug addiction treatment facility include:
accreditation through the Commission on Accreditation of
Rehabilitation Facilities (CARF)
program licensing and approval from the Indiana Department of Mental Health (IDMH)
a 4.0-star Google rating
Location and contact information:
645 N. Walnut St.
Bloomington, IN 47404
(812) 336-3570
Find a state-funded recovery program in Indiana today.
Call to be connected with a treatment specialist. 100% Free and Confidential.
(844) 617-2040
2. Bowen Health Clinic, Fort Wayne, Indiana
Private insurance and Indiana Medicaid plans are accepted at this mental health and substance use disorder treatment clinic.
You can expect to be enrolled in addiction treatment programs, such as:
inpatient treatment
outpatient programs (OP)
mental health services
alcohol addiction treatment
medically monitored detoxification
drug abuse treatment
medication management
This rehab center is also accredited by the Joint Commission.
Location and contact information:
201 E. Rudisill Blvd.
Ste. 106
Fort Wayne, IN 46806
(260) 443-7544
3. Evolve Indy – Indiana Drug And Alcohol Rehab Center, Indianapolis, Indiana
Military health insurance, called Tricare, is accepted at this addiction treatment center alongside in-network cooperation with most major health insurance providers.
Treatment services at this drug rehab center include:
PHP
inpatient and outpatient programs
family programs
intensive inpatient and outpatient treatment programs
methamphetamine, opioid, and alcohol treatment
This drug treatment facility bears the following marks of quality care:
LegitScript certification
accreditation from the Joint Commission
a 4.9-star Google rating with 80+ reviews from past clients
Location and contact information:
8770 Guion Rd.
Ste. B
Indianapolis, IN 46268
(317) 648-2887
4. Hickory House Recovery Center, Greenfield, Indiana
The HIP Medicaid program is accepted for partial and full treatment coverage at this residential treatment facility in Greenfield, Indiana.
The following addiction treatment services are provided by HHRC:
inpatient drug and alcohol rehab
individual and group therapy
access to the 12-step program
personalized treatment plans
long and short-term residential treatment opportunities
general outpatient services, including specialized OP counseling and therapy programs
behavioral therapy and mental health treatment services
This facility is fully accredited by the Joint Commission and benefits from a 4.3-star Google rating with 80+ reviews from past clients.
Location and contact information:
5486 US-40
Greenfield, IN 46140
(317) 434-5375
5. Landmark Recovery Center, Indianapolis, Indiana
Landmark Recovery works with the HIP and is a treatment provider dedicated to accepting applicants regardless of insurance or income status.
To bolster this, payment assistance plans and sliding-fee payment systems are a part of the financial continuum at all LR rehab facilities.
Addiction treatment services available at this location include:
individual and group therapy
recovery coaching programs
mindfulness and recreational activities
medical detox
residential treatment plans
PHP
IOP
the 12-step recovery program
inpatient rehab
Some qualifying features of this drug treatment center are:
affiliation with the National Association for Alcoholism and Drug Abuse Counselors (NAADAC)
LegitScript certification
accreditation through the Joint Commission
a 4.4-star Google rating with 90+ reviews from past clients
Location and contact information:
6330 Digital Way
Indianapolis, IN 46278
(317) 449-2790
6. Memorial Hospital – Drug Rehab Clinic, Jasper, Indiana
This healthcare facility has a specialized inpatient treatment clinic for people seeking recovery from alcohol and drug abuse.
This facility also works with most major health insurance providers and accepts a number of federal and state-specific insurance plans.
State-funded insurance plans accepted at this location are:
HIP
Hoosier Healthwise (HH)
Healthy Indiana
Traditional Medicaid
Medicare
Addiction recovery programs provided by this inpatient detox clinic include:
behavioral health services
cognitive behavioral therapy (CBT)
inpatient drug rehab
outpatient services
medically monitored detox
12 separate Medicaid-funded beds for residential treatment programs
dialectical behavior therapy (DBT)
Marks of quality care at this rehab center are:
accreditation through the Joint Commission
rehabilitation program licensing and approval by IDMH
partnership with the Accreditation Council for Graduate Medical
Education (ACGME), which evaluates and accredits the efficacy of trained medical personnel
7. Pinnacle Treatment Centers – Recovery Works, Merrillville, Indiana
Medicaid insurance plans are accepted at this drug and alcohol treatment facility in Merrillville, Indiana.
Treatment types available at this location include:
medication-assisted treatment (MAT) with buprenorphine, methadone, and more
CBT/DBT
inpatient treatment
outpatient treatment services
individualized treatment plans
mental health services
therapy programs for individuals, families, and groups
gender-specific relocation on client preference
PTC bears the following marks of adherence to quality care standards:
CARF accreditation
affiliation with the National Association of Addiction Treatment Providers (NAATP)
partnership with the American Association for the Treatment of Opioid Dependence (AATOD)
program approval from the National Association for Behavioral Healthcare (NABH)
Location and contact information:
201 W. 89th Ave.
Merrillville, IN 46410
(219) 472-0066
State Funding For Addiction Treatment Centers In Indiana: How It Works
State funding for drug and alcohol rehab programs can be acquired through federal grants or Indiana health insurance plans.
Indiana State Health Insurance Programs
Indiana Medicaid can be obtained through the traditional plan or through a number of licensed subsidiaries that alter the standard plan to accommodate different demographics.
Other names for state insurance plans in Indiana include Hoosier Healthwise—which is for adolescents under 19 years of age—and the Healthy Indiana Plan (HIP).
Federal Block Grants For Rehab Centers And Treatment Programs
SAMHSA offers two federal block grants to fund persons seeking recovery treatment that lack the financial ability to pay out-of-pocket for treatment costs.
What Types Of Addiction Treatment Are Covered By State Funding In Indiana?
Federal government grants and state-funding programs allow for the coverage and provision of many different addiction treatment services.
Some of these partial or fully covered rehab services are:
inpatient and outpatient treatment
intensive inpatient and outpatient programs
partial hospitalization programs (PHP)
medical detox
medication-assisted treatment (MAT)
prenatal and postpartum care at eligible treatment locations
treatment for mental health disorders
behavioral health treatment
individual case management
medication management
residential treatment
discharge planning
FAQs For Indiana State-Funded Rehab Centers
Find answers in the list below to questions you may have about state-funded rehab centers, which programs are covered, and eligibility requirements.
❓ How Do I Know If I'm Eligible For Indiana Medicaid Programs?
✔️ You can determine your eligibility for Indiana Medicaid plans by contrasting your medical needs and legal income status with the official Indiana Medicaid website.
❓ Who Receives Priority Admission At A State-Funded Rehab Facility In Indiana?
✔️ People with the most proven medical need, pregnant women, and intravenous (IV) drug users receive priority care and admission at state-funded addiction treatment centers.
❓ How Do State-Funded Rehab Centers Use SAMHSA Block Grants?
✔️ SAMHSA block grants are special funding allocations designed to enable people in search of recovery to receive the substance use or mental health services they need.
You can seek recovery services at rehab facilities which have obtained grant funding if you are deemed eligible.
There are two main grants provided by SAMHSA, the first being the Substance Abuse Prevention and Treatment Block Grant (SABG), which is the most widely available.
The second is called the Community Mental Health Services Block Grant (MHBG), which limits the funding capabilities for some rehab services, but not all.
Connect With A State-Funded Rehab Center In Indiana
If you or a loved one are searching for a state-funded rehab center in Indiana, give our helpline a call today to discuss obtaining a free referral.
Published on February 15, 2022
This page does not provide medical advice.
See more
Article resources
Free Rehab Centers aims to provide only the most current, accurate information in regards to addiction and addiction treatment, which means we only reference the most credible sources available.
These include peer-reviewed journals, government entities and academic institutions, and leaders in addiction healthcare and advocacy. Learn more about how we safeguard our content by viewing our editorial policy.