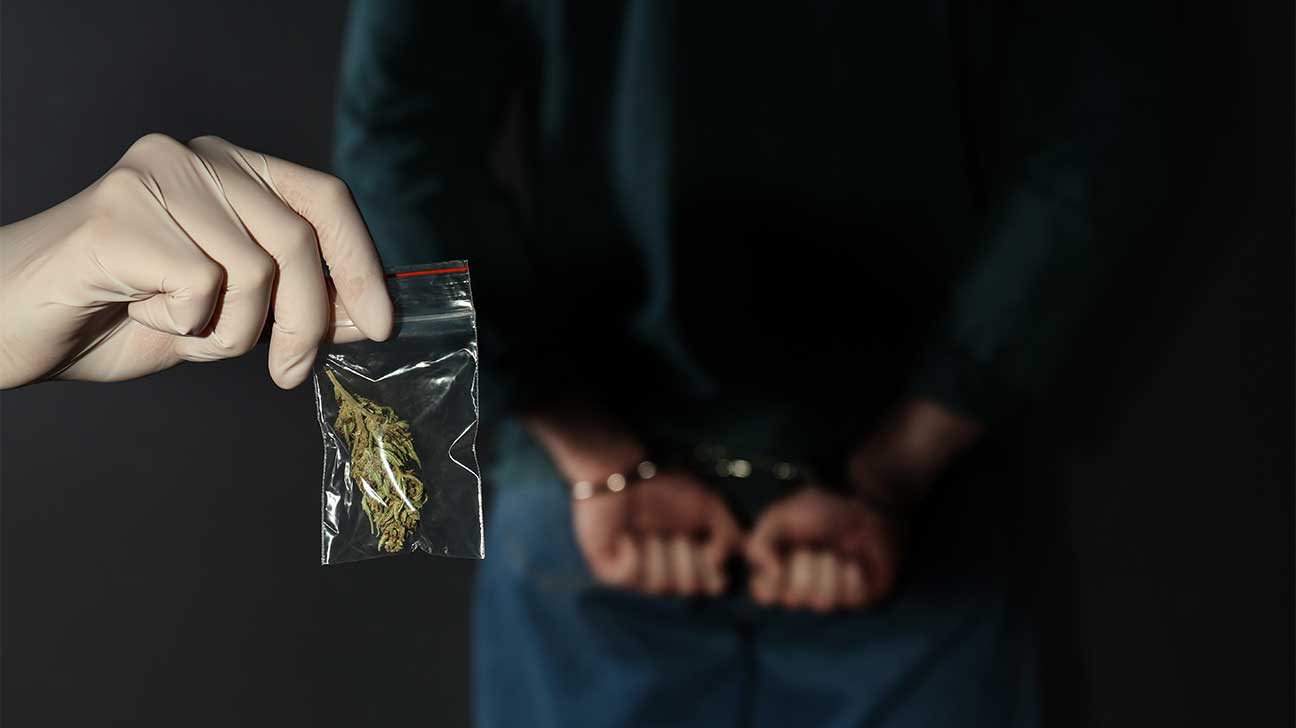 Knowing how to handle a drug or alcohol arrest isn't a lesson that is taught in school. And yet, it's something a large number of people in the United States experience each year.
According to the Drug Policy Alliance, over one million drug arrests are made by law enforcement officers each year. Most are related to the possession of a controlled substance.
Other common alcohol and drug offenses include:
drug trafficking
drug manufacturing
drug dealing
possession of drug paraphernalia
driving under the influence (DUI)
drinking alcohol under the age of 21
Being arrested for drug possession, a drug bust, driving while intoxicated, or a related violation can be distressing. For those with drug or alcohol addiction, this can also serve as a wake-up call.
Millions of people in the U.S. struggle with drug or alcohol abuse. And while this isn't a factor in every drug arrest, troubles with the law can become a consequence of a substance use problem.
What To Do If You Are Arrested For Drug Or Alcohol-Related Charges
Arrest data shows that possession of a controlled substance, like marijuana, opioids (e.g. fentanyl), LSD, and methamphetamine is the most common drug charge in the United States.
The associated consequences, or penalties, of drug-related charges, however, can vary according to federal law, state laws, and local laws.
If you are approached by a public safety officer, or other law enforcement official, on suspicion of a drug possession or another drug or alcohol-related violation, here is what to do:
Try To Stay Calm
An arrest situation can be very stressful, tense, and scary. When possible, however, it is strongly encouraged that you make an effort to remain as calm as you can under the circumstances.
What to avoid:
becoming combative
panicking
resisting arrest
trying to talk your way out of it
bribing a police officer
Becoming combative, hostile, or otherwise escalating the situation could lead to use of force by a police officer, as well as avoiding additional charges, such as resisting arrest.
Know Your Rights
Beyond providing identifying information, such as your name, the Fifth Amendment of the U.S. Constitution protects your right to remain silent, pre-arrest, until you have a lawyer present.
This means you have no obligation to tell a police officer information such as your history of drug use, or information concerning a prior arrest record.
A police officer cannot arrest you on the grounds of failing to respond to questions. One exception to this, in certain states, is a request for identification.
Contact A Lawyer
Legal counsel is the best tool a person can have in the event of a drug or alcohol arrest. If you are arrested, it's highly recommended that you contact a lawyer or attorney as soon as possible.
If you are unable to afford a private lawyer or find a pro-bono defense lawyer, the court will provide you with a public defender to serve as your legal counsel.
What Are The Consequences Of A Drug Or Alcohol Arrest?
The consequences of being arrested on drug or alcohol charges will largely depend on the details of your situation, the charge, as well as other factors, like a history of arrest.
If this is your first offense, and it is minor, the consequences may be less severe than if you are, say, arrested for trafficking a large supply of illicit drugs.
Possible consequences of a drug or alcohol arrest include:
jail or prison time
court-mandated treatment
fines/fees
pretrial intervention
revoked drivers license (if arrested on a DUI charge)
probation
You might also be subject to mandatory drug testing or community service, depending on the nature of the charge and the court ruling.
What Factors Can Affect The Consequences Of A Drug Arrest?
Not all drug crimes will result in the same consequences, or penalties. Various factors can affect what comes out of a drug or alcohol related arrest.
These factors can include:
your age (i.e. juvenile or adult)
a history of substance use disorder
previous involvement in the criminal justice system
being a first time offender
the nature of the charge
type of drug involved (e.g. possession of cocaine, possession of heroin)
your location
drug quantity (if arrested on possession charges)
Moreover, if you do have a substance abuse problem, showing a willingness to voluntarily seek treatment following arrest could affect what comes next.
For instance, a court may mandate addiction treatment in lieu of jail or prison time, particularly if this is your first time being arrested on charges related to your alcohol or drug use.
Getting Help For A Drug Or Alcohol Use Issue
Substance abuse can lead to various problems with the law, especially if your substance use is severe or is a chronic issue that you've dealt with for some time.
Use of illicit drugs, or engaging in other high-risk behaviors, such as drinking and driving, can further increase your risk of arrest and its consequences — like job loss, or difficulty finding housing.
If you're concerned about yourself or a loved one with addiction, call our helpline today to learn more about available drug treatment options.
This page does not provide medical advice.
See more
Article resources
Free Rehab Centers aims to provide only the most current, accurate information in regards to addiction and addiction treatment, which means we only reference the most credible sources available.
These include peer-reviewed journals, government entities and academic institutions, and leaders in addiction healthcare and advocacy. Learn more about how we safeguard our content by viewing our editorial policy.