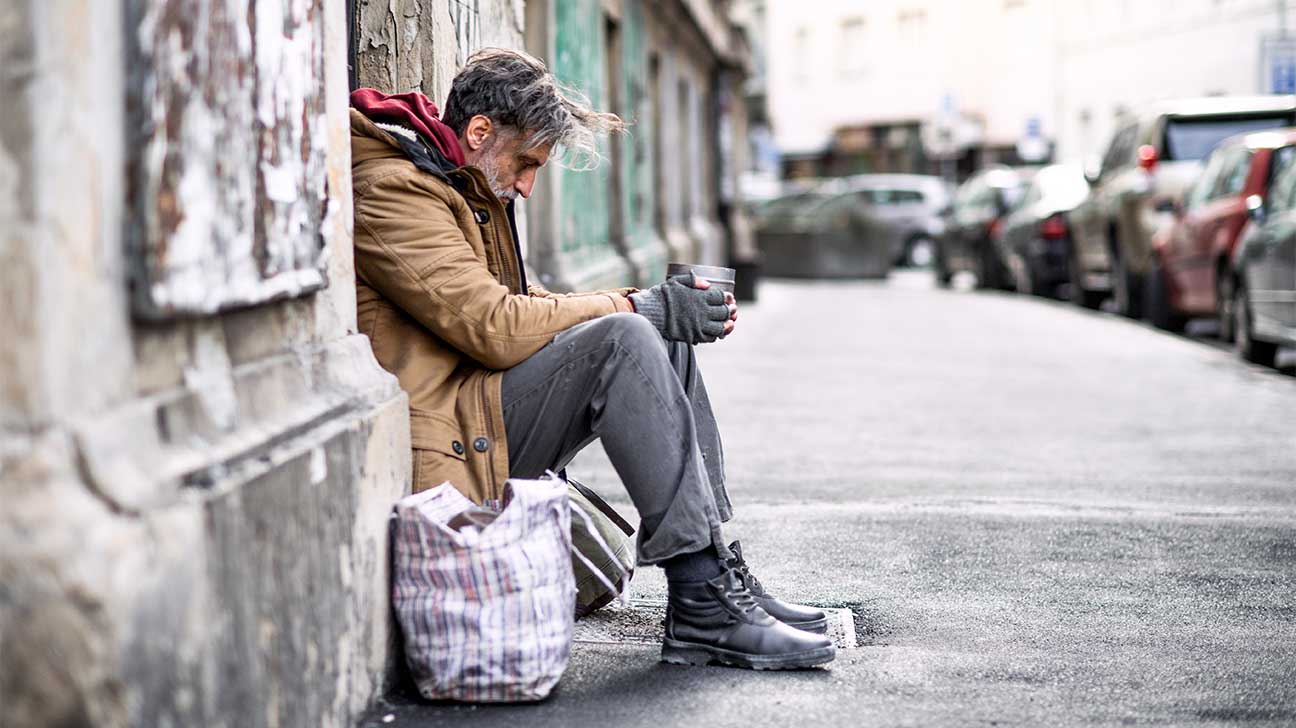 Addiction is a chronic, but treatable disease that occurs at an elevated rate among the homeless population, along with other psychiatric and mental health disorders.
Studies show there is a high prevalence of these co-occurring issues. According to one study, up to two-thirds of people who are homeless develop substance use issues in their lifetime.
What's important to understand is: Neither homelessness, nor addiction, is a moral failing.
But there are some characteristics of drug and alcohol use disorders that can present more serious risks for those who lack stable housing.
How Common Is Addiction In The Homeless Community?
Homelessness and addiction are both significant problems in the United States.
During the COVID-19 pandemic, factors such as job loss, higher living costs, and inflation have made losing one's home an even bigger concern in various communities.
According to the National Coalition for the Homeless, substance abuse is a common contributing cause to homelessness, and can also occur as a result of homelessness (e.g. to self-medicate).
Common forms of addiction include:
opioid addiction
alcohol addiction
cocaine addiction
methamphetamine (meth) addiction
prescription drug addiction
polysubstance abuse (misusing multiple drugs)
What Is The Connection Between Substance Abuse And Homelessness?
Substance abuse and addiction can precede homelessness, or develop after a person becomes homeless. Sometimes, this can develop as a coping mechanism.
Alcohol and drug abuse can become all-consuming. It can ruin relationships, harm your health, and can also adversely affect your ability to work and pay the bills – including rent.
Substance abuse is also associated with:
job loss
troubles with the law (a risk for eviction)
troubles in the home (e.g. domestic disputes)
co-occurring disorders
Not all of those who are homeless have substance abuse issues. But those who do will often require an integrated support system and a full continuum of care to successfully overcome them.
Can Homelessness Lead To Substance Abuse?
Substance abuse isn't just a common cause of homelessness. This can also develop after a person has lost access to stable, affordable housing due to a variety of factors.
Common risk factors for substance abuse include:
family history of addiction
history of mental illness
lack of social support
exposure to alcohol abuse or drug use early in life
feelings of loneliness, shame, or hopelessness
What Are The Risks Of Addiction In The Homeless Community?
Drug and alcohol addiction can have a wide range of physical health effects, effects on mental health, and disrupt virtually every area of a person's life.
But people who are homeless have an even more elevated risk for some of the problems associated with substance abuse and common co-occurring mental health conditions.
People with addiction who are homeless are at increased risk of:
fatal overdose
bloodborne diseases (e.g. HIV, hepatitis)
interactions with law enforcement
chronic disease (e.g. heart disease)
severe drug or alcohol dependence
increased risk for violence and victimization
frequent cycling between the streets, jails, and medical centers
thoughts of suicide and suicide attempts
What Is The Best Treatment For Addiction In People Who Are Homeless?
People with addiction who are homeless may require extra support in order to overcome their addiction and succeed in building a healthy life in addiction recovery.
A comprehensive treatment program for someone who is homeless might include:
detox
inpatient or residential treatment (24-hour care)
behavioral therapy
medication management
supportive housing program
employment assistance
harm reduction education
treatment for serious mental illness or a dual diagnosis
life skills training
case management
Common Barriers To Recovery For People With Addiction Who Are Homeless
Staying on the recovery path while living on the streets can be incredibly difficult, particularly if you lack a social support system.
Among those in the homeless community, there can be various barriers to addiction treatment compared to the general population.
Common barriers to treatment services and recovery if you're homeless include:
lack of health insurance
lack of a stable address
lack of reliable transportation
lack of documentation (i.e. personal information)
long waiting lists for care
higher risk of relapse
Resources For Those With Addiction In The Homeless Community
A number of resources exist that can help individuals and families affected by addiction and homelessness, in order to help get you or a loved one on the road to recovery.
Some of these resources include:
Find Substance Use Disorder Treatment Today
At FreeRehabCenters.net, it's our mission to help people with limited financial resources gain access to high-quality behavioral health treatment through qualified providers.
If you're looking for substance use treatment, call our helpline to find an affordable inpatient or outpatient treatment center near you today.
This page does not provide medical advice.
See more
Article resources
Free Rehab Centers aims to provide only the most current, accurate information in regards to addiction and addiction treatment, which means we only reference the most credible sources available.
These include peer-reviewed journals, government entities and academic institutions, and leaders in addiction healthcare and advocacy. Learn more about how we safeguard our content by viewing our editorial policy.