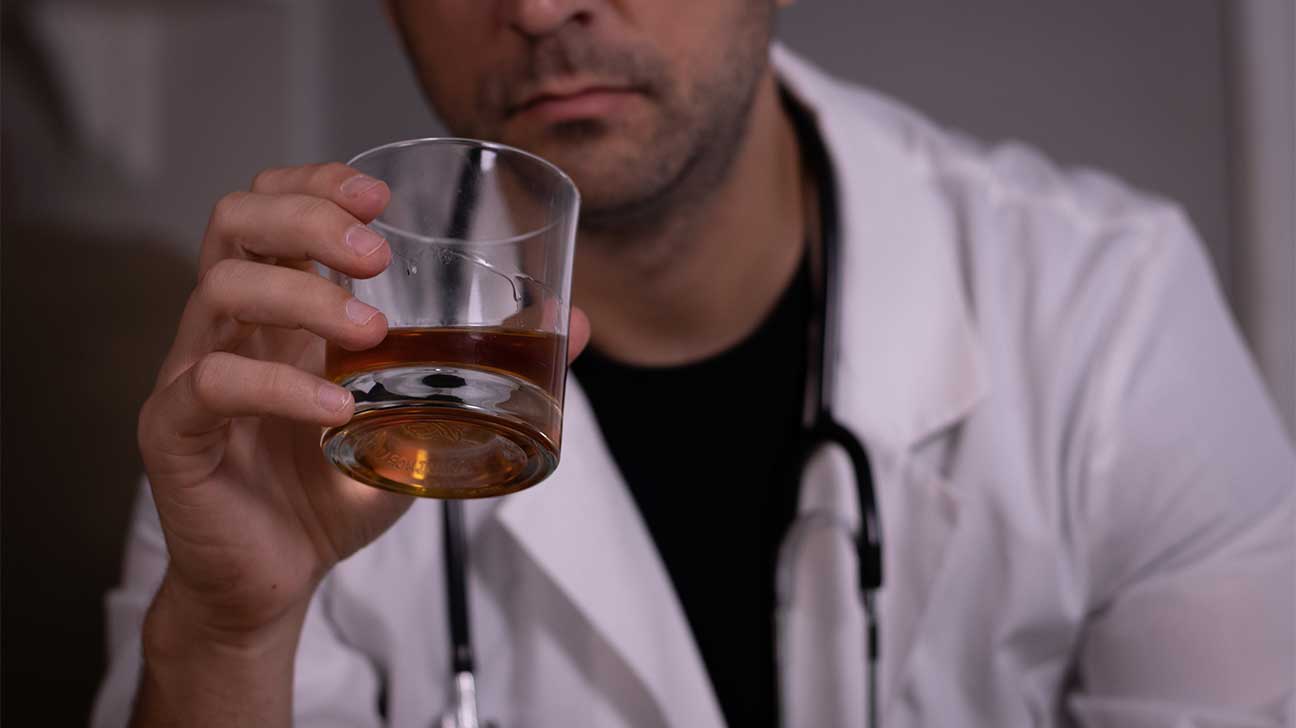 Healthcare is a stressful field that has only grown more difficult for workers during the COVID-19 pandemic. New reports show that some doctors and nurses are struggling.
One survey, commissioned by a treatment facility that specializes in treating healthcare workers, found that one in seven doctors reported using drugs or alcohol on the job to cope with stress.
One in five, or 20 percent, of nurses also reported greater alcohol consumption in general during the pandemic, according to a different survey published by the American Nurses Foundation.
What Can Cause Nurses Or Doctors To Drink On The Job?
Drug or alcohol use can often be used to cope with anxiety, stress, and other difficulties, and this may be true for healthcare professionals who work in a high-stress environment.
Healthcare professionals also have greater access to controlled substances, compared to the general public, and perhaps a better understanding of drugs and their effects.
Other stressors that can contribute to drug use among healthcare workers:
difficult workplace conditions (e.g. high stress, short-staffing)
loss of recovery support during the pandemic
workplace violence
compassion fatigue
malpractice cases
family member troubles
moral injury and trauma
How Common Is Substance Abuse Among Doctors And Nurses?
Substance abuse and substance use disorder — the clinical term for "addiction" — doesn't discriminate. This means doctors and nurses aren't immune from developing a problem.
In fact, up to 15 percent of health professionals are estimated to either be impaired by, or be in recovery from harmful forms of alcohol or drug use.
Addiction is a disease that can be influenced by a wide range of factors, including personal struggles, biological factors, past trauma, family history of drug abuse, and more.
What do we know about how common this is among doctors and nurses?
Physicians/Clinicians
A new "State of Mental Health: American Healthcare Workers" report surveyed 1,000 healthcare workers over the age of 22, including physician respondents.
Of those respondents:
14 percent self-reported using alcohol or another controlled substance on the job to cope with stress
17 percent self-reported using drugs or alcohol at least once per day in general
Risk factors for addiction, such as stress and anxiety, are also common among doctors, per the survey. Forty-nine percent of respondents reported feeling anxiety or dread about going to work.
Forty-nine percent also said they are "at their breaking point" or looking for new work due to the stress and/or trauma they experience on the job that is harming their well-being.
Nurses
National estimates show that, of the roughly 4.3 million nurses in the U.S, about one to three percent may have a substance use disorder. Still, that's a conservative estimate.
Other estimates identify a prevalence of closer to six to eight percent of the nursing workforce, which is on par with the general population.
What Are The Most Commonly Abused Substances Among Healthcare Professionals?
Alcohol, prescription medications, and other controlled substances healthcare providers may have access to through their job can sometimes be misused for nonmedical purposes.
Common substances of abuse include:
prescription opioids (e.g. morphine, fentanyl)
benzodiazepines
ketamine
marijuana
heroin
sleeping pills
stimulants
Signs And Symptoms Of Substance Abuse In Healthcare Workers
According to the U.S. National Library of Medicine, there are a number of signs and symptoms of substance abuse in healthcare workers that can help identify when or if there is a problem.
Physical signs of self-medicating with drugs or alcohol might include:
unusual drowsiness
hyperactivity
large or tiny pupil size
bloodshot eyes
unusual anger, aggression, or other mood changes
disheveled appearance
slurred speech
track marks
reduced alertness, coordination, and reaction time
poor judgment
Behaviors indicating possible substance abuse can include:
frequent mistakes
altering orders for drugs
making incorrect drug counts
higher-than-average opioid administration
tampering with vials or capsules
frequent intoxication at social functions
poor-quality work or poor charting
frequent reports of poor pain relief from patients
frequent unexplained work absences
What Help Is Available For Medical Professionals With Addiction?
Nurses, doctors, and other medical professionals with a substance abuse problem should not be deterred from seeking help. Without help, this problem can grow worse.
Still, there are common, valid concerns a healthcare worker may have about seeking help for behavioral health issues.
Concerns that medical professionals may have about seeking help for substance misuse:
fear of losing your job
fear of having your license revoked
fear of stigma or discrimination
getting into legal trouble for illicit drug use
other disciplinary actions
Before the 1980s, discipline for medical professionals who were found to have a substance abuse problem was the norm, due to stigma and the perceived risk to public health.
And while stigma in the medical profession still persists, that's not necessarily the case today. So, what help is available?
Anti-Disciplinary Intervention And Treatment Programs
Some states have developed intervention programs for drug and alcohol abuse that specifically cater to nurses, doctors, pharmacists, psychiatrists, and dentists who develop addiction.
In Florida for instance, the state has developed The Intervention Project for nurses.
This anti-disciplinary program initiates an intervention, recommends evaluations, and offers nurses referrals to appropriate treatment programs for substance use issues.
This might include:
detox for drug or alcohol dependence
inpatient treatment
intensive outpatient treatment
partial hospitalization
outpatient treatment
addiction counseling
aftercare programs
Beyond this program in Florida, other anti-disciplinary treatment programs that prioritize treatment over punitive sanctions for healthcare workers with addiction also exist in other states.
Addiction Treatment For Medical Professionals
There are drug treatment centers in the U.S. that offer treatment plans that cater to the needs of healthcare workers, including nurses and physicians.
These specialized rehab programs offer programming meant to address specific challenges that healthcare workers can face on the road to recovery.
Find Affordable Treatment For Addiction Today
At FreeRehabCenters.net, we offer a comprehensive directory of treatment facilities for people with addiction, including free rehab centers and Medicaid rehab centers.
We believe cost shouldn't be a barrier to substance abuse treatment for anyone. For more information, or to find a treatment provider for a loved one near you, call our helpline today.
Published on September 7, 2022
This page does not provide medical advice.
See more
Article resources
Free Rehab Centers aims to provide only the most current, accurate information in regards to addiction and addiction treatment, which means we only reference the most credible sources available.
These include peer-reviewed journals, government entities and academic institutions, and leaders in addiction healthcare and advocacy. Learn more about how we safeguard our content by viewing our editorial policy.